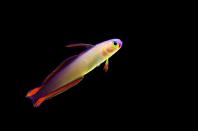 Aquariums come in all different styles from personable predator fish to colorful reef tanks. All the pictures throughout this entire site have either been taken by a creative aquatics employee or one of their clients. Some of the nicest pictures came from Robert Lafollette and his 110 gallon reef tank. You can see more of his professional pictures and designs at
www.robertlafollette.com
Saltwater Predator- These are generally large aquariums with large fish and no live coral. Besides the beautiful fish these tanks use either live rock, fake coral, or giant custom inserts to decorate the tank.

Reef tanks- The Reef Tank is made up of live rock, coral and other invertebrates. The live coral is brightly colored and moves with the water flow making the whole tank seems alive. When you look closer you will also notice snails, shrimp, and other invertebrates helping to keep the tank clean, healthy, and interesting.

Freshwater Community- These tanks are made up of colorful, small, friendly fish. When live plants are added the tank is extremely lush, colorful and lively.

Freshwater Predator- These large tanks are made up of large, aggressive, colorful fish. These fish are extremely personable and can even be trained to lay in your hand and pet like a dog.

Walk around tank- An island overflow allows for viewing from all 4 sides

Picture frame- An in the wall aquarium allows for a viewing panel like a living piece of art hanging on the wall

Built in- An in the wall aquarium appears to be part of the house instead of a piece of furniture like ordinary aquariums.

Custom shapes- Any shape/size is possible from a simple hexagon to curved fronts to even bubble viewing holes

Factory built tanks- Factory built tanks come in all different shapes and sizes.